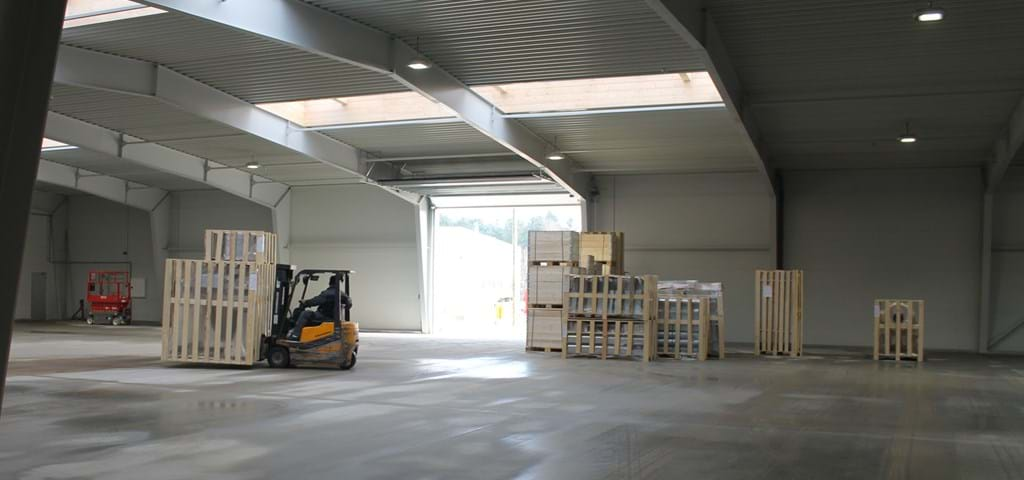 New warehouse at SKIOLD
SKIOLD has taken a new 3000 m2 large warehouse in Sæby into use.
During the first months of 2016, we have expanded with a new warehouse in Sæby with an area of 3000 m2. The warehouse is an insulated cold hall for storing of articles for project orders during preparation for shipment of the complete order. After closing of the warehouse in Ikast in 2014, we have had a need to establish extra space in Sæby, especially when we produce and purchase components for the very large feed projects supplied by SKIOLD. The shipping volume of a feed project is often 10 trucks/containers, but can be more than 30 trucks/containers for the largest projects. This calls for lots of space for safe storing up until shipment.
The warehouse is equipped with loading platform and allows for loading of trucks inside the building, which makes the loading more efficient, and provides for good conditions for the staff during the loading. We still need to establish pavement on roadway and turning space. This will be completed during week 29, when SKIOLD is closed for the holidays. The warehouse was taken into use in April, and the official opening was marked by an open house arrangement for the employees and their families on Saturday 15th of May, with opportunity for seeing the new warehouse and the other localities at close range – a well-attended arrangement with about 150 participants.