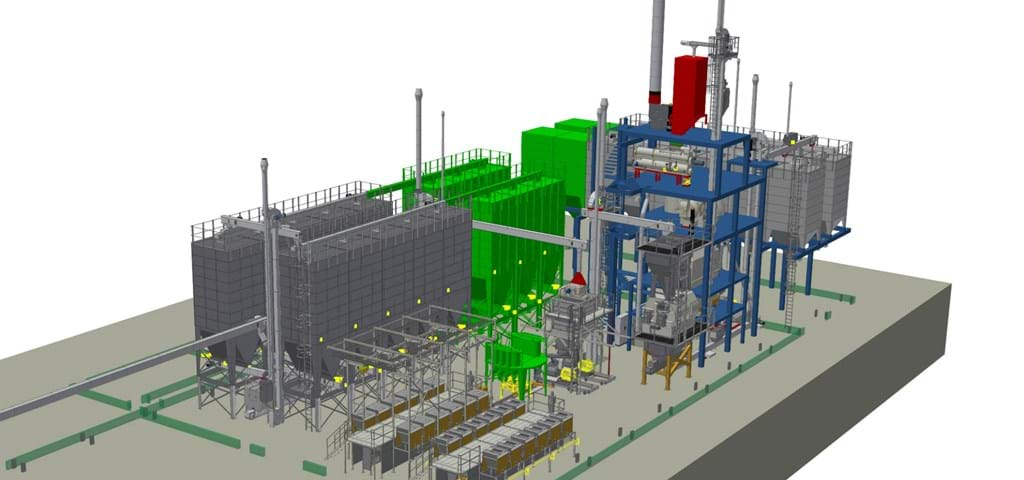 SKIOLD wins two large orders
Enormous projects in Russia - 42.000 finishers
SKIOLD, who are amongst the world's leading suppliers of complete feeding plant solutions, has signed a contract with RBPI Group in Russia for two identical feed milling plants, each with a capacity of 28 tons per hour. RBPI Group are building two very large pig farms in Kaliningrad and Nizhniy Novgorod. Each of the pig farms has 6.200 sows and a yearly production of 42.000 finishers. The feed milling plants consist of intake, grain cleaning, silos, dosing, transport equipment, grinding, mixing, pellet line and control systems. 
The size of this order is not the only spectacular thing about these projects - for each plant, two SK780 will also be delivered. The SK780 is the world's largest disc mill and the first of this type to be delivered to Russia. 
The first plant will be delivered before the end of 2017 and the second plant during the end of 2017/beginning of 2018. 20.000 tons meat per year will be produced on each farm, which can provide the entire area with quality meat, whilst creating more than 400 jobs. 
RGPI has a vision of being the most efficient, profitable and eco-friendly manufacturer of quality meat in Russia. The company is highly involved in its immediate environment and is a keen contributor to charity projects in Russia of benefit to the immediate environment.
"RGPI Group has since 2009 had a SKIOLD feeding plant for production of feed for an existing pig-production. When planning a further expansion, we again chose SKIOLD as our preferred supplier. With 12.400 sows, operational reliability is one of our highest priorities when choosing a supplier as well as products" says Thomas Norgaard. 
SKIOLD's SK780 is suitable for grinding of many different raw materials. The grinding degree can be adjusted during operation and the feed structure is optimal for all groups of animals. The mill has a very low noise level, exceptional long durability on all wearing parts and a high capacity with a low power consumption.
SKIOLDs SK780 er velegnet til formaling af mange råvarer. Formalingsgraden kan justeres under kørslen, og man opnår optimal foderstruktur til alle dyregrupper. Møllen er særdeles støjsvag, har exceptionel lang holdbarhed på alle sliddele, og en høj kapacitet med et meget lavt strømforbrug.