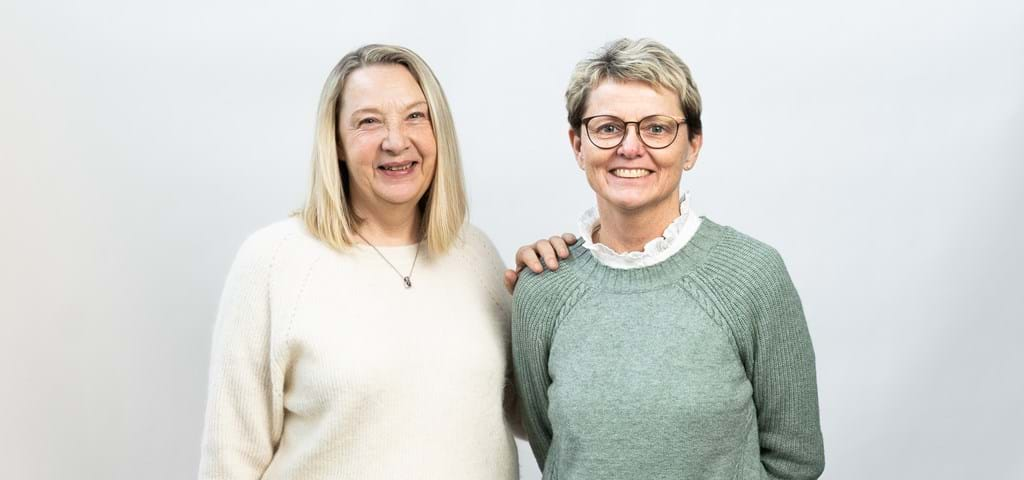 The voice of SKIOLD
On a daily basis, they are a particularly dynamic duo, each contributing with different personalities and tempers.
The difference is one of the things that makes their collaboration work extra well, if you ask the two receptionists Linda Holm Christensen and Dorthe Christensen. They each came to SKIOLD, with very different backgrounds.
Linda Holm Christensen started in 2009, where she came with experience from a law firm in Frederikshavn, Denmark. A position she held for 20 years. But a new chapter unfolded in Linda's, life when she and her daughters moved to a small town in northern Denmark called Dybvad, and it also became her way into SKIOLD.
- I remember that for my job interview I was asked if I was able to take care of the phone, while I was doing something next door. I think that was a very strange question, because I have always done that, says Linda.
And the reception team is used to juggling a lot of balls in the air. They are both masters at understanding the discipline of doing several different things at once.
That flexibility is also something that characterizes Dorthe Christensen's career path. A path that has offered different tasks and functions. First she started with shipping and later she tried herself with inventory management.
But like Linda, she and her family also wanted to go north. Here, the final destination was Sæby, where SKIOLD's headquarters are also housed. Dorthe was hired in 2018 and the new front desk duo was formed.
- Linda lacked a partner in crime and I was fortunately allowed to, says Dorthe Christensen with a smile.


"Sorry, I need to pick up the phone"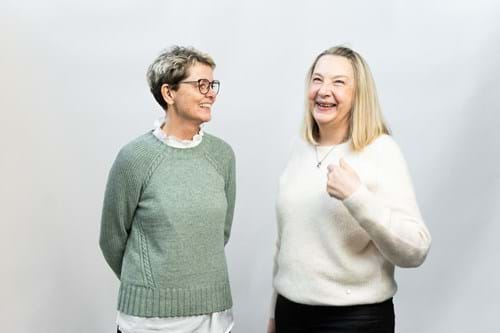 One thing that was hard not to pick up, while the conversation was going on with Dorthe and Linda, was their always clear focus on servicing the many calls and passersby that often contributed to several small interruptions.
"Sorry, I need to pick up the phone" was therefore a quick remark, while Linda and Dorthe told about life and work in SKIOLD.
- I have always been used to these small disturbing interruptions, where you have to put a line in your block and then come back and continue the work after you have just done something else, says Linda, who is backed by Dorthe.
- You just have to be able to close off, when you sit in the middle of it all, where people float back and forth every single day, she says.

The temperamental and the restrained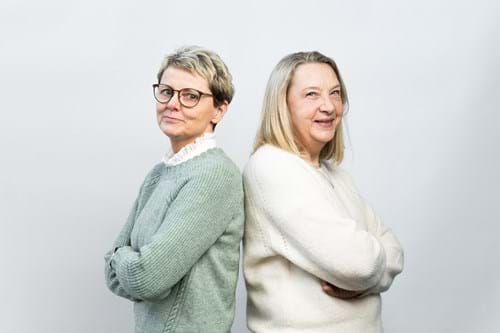 When a team is put together, it is not always a given thing that it will work. But for Linda and Dorthe, the combination of Linda's temperamental nature and Dorthe's slightly calmer shape has proven to be the perfect combination that created a really good and dynamic duo.
The characteristics of Linda as the slightly temperamental and Dorthe as the more restrained, in their relationship, are in many ways also expressed in their everyday lives.
- I can feel, here in my old days, that I have gained a little more temper. I'm a little more aware of whether people are not getting written in their calendar so I can see if they are available or if they are inside or out of the house. I can react to something like that a little, but I will be good again, says Linda with a smile.
Her colleague Dorthe may not be nearly as quick to get upset. But she actually enjoys having a person like Linda close to in everyday life, who has some qualities she does not even have.
- We are different, but we have much the same humor. Especially when the work can get a little too much, I think we are good at using our humor with each other, and that way it never gets worse than that we can laugh a little at things, says Dorthe.
Make each other good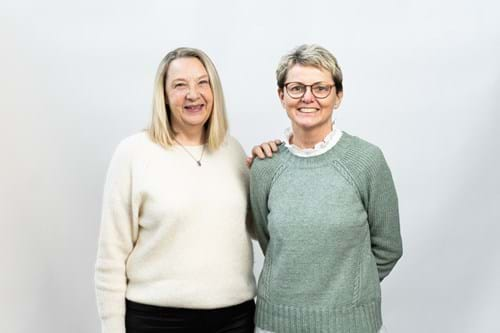 - I remember that Dorthe once called me out to her because she had received an email with the letters F, Y, I, in capital letters, as the only thing in the email. Here we should just demystify that it was an abbreviation of "For your information", says a smiling Linda, while Dorthe has also broken out in big laughter.

- I thought it was some initials on a colleague, so I was actually a little confused, Dorthe adds.
That they can help each other down to the smallest details is something both Dorthe and Linda appreciate in their collaboration. With both of them, they are never in doubt that there is help, support and backing should the need arise.
- I probably tend not to always get things said, and if something has a negative impact on me, I hope it goes away by itself. There I really enjoy having Linda, who is a little more outgoing and wants things clarified right away, says Dorthe.
Good service means everything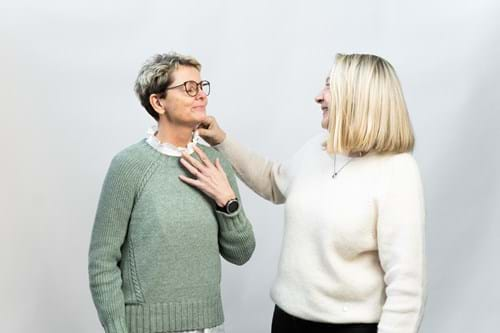 When asked what they perceive as their most important task, Dorthe and Linda are both quick with the answer: "good service". For them, it is important to go the extra mile to ensure a great experience for those who contact SKIOLD.

- I think it's something we're good at. There can be many situations when people call in. Someone can't get hold of someone they would like to be in contact with. Others are a little in doubt about who they should actually get hold of. Some are in a good mood and others in a bad mood, but common to them all is that we try to give them the best experience when they call in, says Linda

Through good dialogue with the many people who come in the door or the phone every day, Dorthe and Linda have also over time built up a trusting relationship and a good friendly tone.

- There are many repeaters, where we have created a special jargon. I personally enjoy when they come to visit or call in, Dorthe and Linda quickly follow up.

- It's a little fun when you have created a good relationship with those who come a lot or call often. I like to have fun with them, because it is important to me that the mood is high and I can help lift the mood, says Linda.

In short, it must be a good experience to get through to SKIOLD, and therefore the duo Dorthe and Linda have also set themselves the goal that it should not be possible to put a finger on the experience from the reception when calling SKIOLD, for they two passionate about both good service and good relationships.