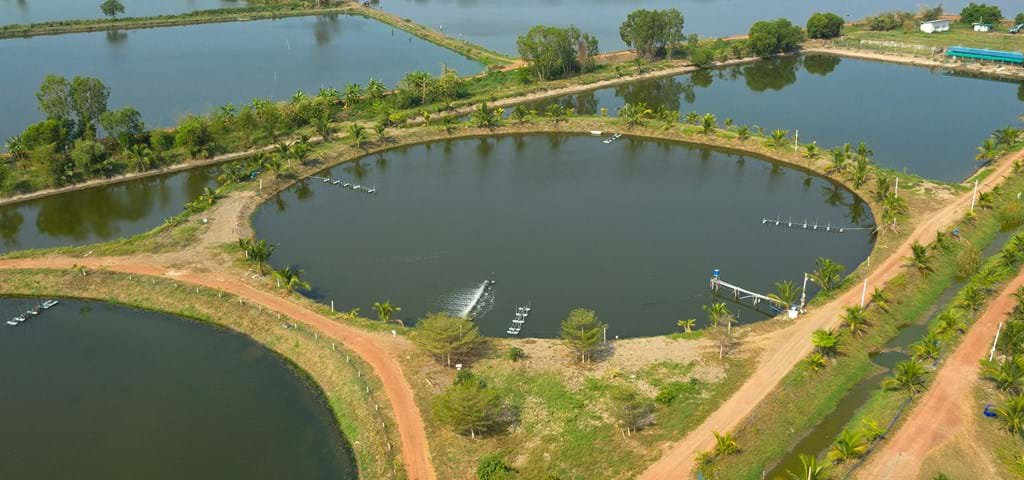 SKIOLD Aquaculture feed processing
Reinventing and optimising the production of aquaculture feed
For more than 140 years, SKIOLD has pioneered the feed manufacturing industry. Now the time has come for aquaculture feed, as SKIOLD proudly launches a highly competitive aquaculture feed concept and process plant that ensure the production of nutritious, first-class feed for an expansive range of species.
With a new concept and plant design developed for the global aqua feed industry, SKIOLD now aims to become the preferred partner for design, engineering, construction, and maintenance of aqua feed production plants. SKIOLD aquaculture feed extrusion plants are designed to produce a versatile range of nutritious pellets that meet the needs of various warm-water species, match fish feeding habits, and ensure optimum health and feed conversion rates.
Flexible and scalable modular solution
The SKIOLD aqua feed plant solution is based on a modular concept that can be customised to meet the specific production needs of aquaculture feed manufacturers and fish farming companies of all sizes. The flexible, scalable modules provide complete solutions covering every phase of the production process – from grinding to sifting, extruding, shaping, drying, and coating/cooling feed pellets. Plant automation and control systems keep track of production data, offering full traceability and tracking of raw materials to ensure fish farm productivity and food safety.
Horizontal design for improved performance
Contrary to similar solutions, the SKIOLD concept is based on a horizontal, on-the-ground construction. The one-level plant design yields a range benefits that optimise plant performance and ensure operational reliability. Primarily, the horizontal design ensures easy access to all points of operation, increases the efficiency of daily operations, makes it easier to establish a logic product flow, improves working conditions and ensures a safer work environment.
Easy-to-build solution
The horizontal plant design also offers a financial advantage as one-level constructions are less expensive to build compared to complex, multiple-level tower constructions. Furthermore, the modularised SKIOLD concept offers reduced construction time and a relatively uncomplicated building process which ensures that the construction project can be managed by local civil contractors. In combination, the modular concept and the one-level plant design also ensure an agile and flexible production that can easily be upgraded or adjusted to meet changing or growing market demands.
Service programmes, spare parts & upgrading
The SKIOLD solution includes various maintenance, spare parts, and service programmes to ensure productivity and reduce downtime at all SKIOLD aquaculture feed processing plants.  We are dedicated to optimising maintenance planning, to control maintenance costs, and ensure parts availability for all customers with the overall goal of guaranteeing operational reliability, consistent product quality, and an extended equipment life cycle.
Global approach – local presence
From Vietnam to Sweden, SKIOLD is locally present around the globe and is committed to offering world-wide support. With a fine-meshed network of subsidiaries and sales offices, we strive to be close to our customers and to ensure easy access to service, consultancy, and spare parts anywhere in the world.
Founded on strong customer partnerships
SKIOLD is committed to establishing strong partnerships with our customers, and with a history in the feed industry that dates back more than 140 years, we are a reliable and experienced partner, offering extensive know-how, technical expertise, and valuable insight into feed production and feed production equipment. On every project, we are with our customers all the way – from project development to construction, maintenance, and after-sales support – and are dedicated to help our customers grow their business.
BENEFITS:
Easy-to-build solution
Reduced construction time
Can be built by local contractors
Superior flexibility & scalability
Easy to operate, upgrade and maintain
Better workflow & easy access to the entire plant
Safer work environment
Improved employee retention
Superior performance & efficient production
Consistent feed quality & full traceability
Read more about our solutions for aquaculture feed production