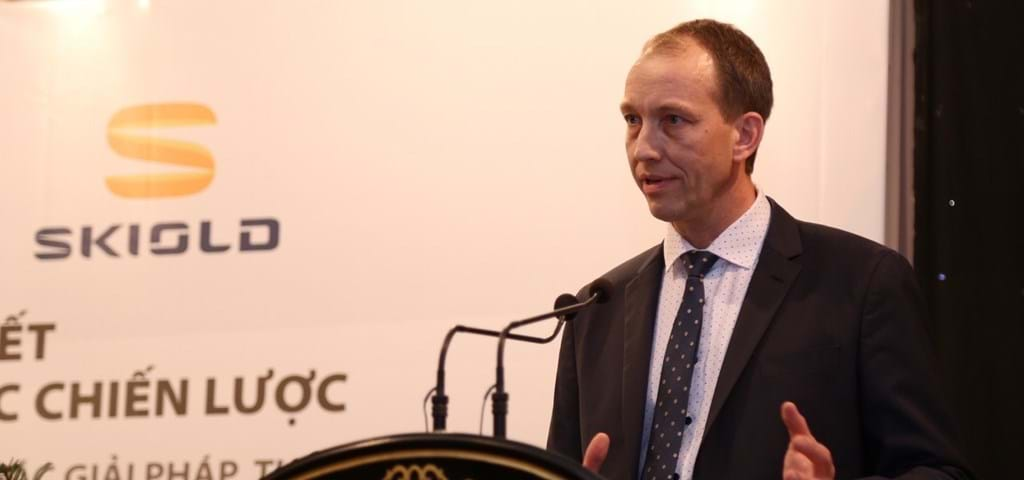 SKIOLD Partners up with NS BlueScope Lysaght Vietnam
To develop modern and future-proof solutions for poultry and livestock farming
The strategic partnership between two leaders in the field will give the Vietnamese poultry and livestock farming industry a jump into the top of the best international league. 
HO CHI MINH – January 10th 2019 – Today, NS BlueScope Lysaght Vietnam signed the strategic memorandum of understanding with SKIOLD, a Danish-based company with more than 140 years of experience and know-how within feed milling, full line pig farms, poultry farms, grain handling and seed processing.
Accordingly, the two parties will collaborate to develop modern turn-key solutions for Vietnam's poultry and livestock farming market to increase the efficiency and productivity, which includes total solution offering, market development, customer service and marketing activities.
 "The strategic partnership enables NS BlueScope Lysaght Vietnam to combine our 165 years of experience in the industry with SKIOLD's unique strengths to offer complete, best-of-the-breed solutions for Vietnam's poultry and livestock farming to improve industry competitive edge in both domestic and international market. To be specific, our solutions will be characterized with optimal nutrition control and traceability, thereby helping farm owners to access the model of hi-agriculture farms applied in developed countries, improving return on investment with higher productivity,  profitability," said Mr Nguyen Cao Tri, President, NS BlueScope Lysaght Vietnam.
NS BlueScope Vietnam launched Lysaght Agrished in 2015 and is now the leading provider capable of offering total solution for breeding facilities and central controlling system. Particularly, Lysaght Agrished is specially designed to suit local conditions and specific livestock, which help to boost productivity and eliminate reinvestment for at least 20 years and controlling livestock diseases. Lysaght Agrished has been installed by more than 20 big farms of big names in hi-agriculture investment and production like Thai Duong, CP, Phu Gia, CJ, Red Star, Viet Uc, etc. so far.
 "SKIOLD has owned subsidiary since 2015 in HCMC, and Vietnam is one of the most important markets for us. We are already among the largest and most prominent suppliers in the market and have delivered many full-line pig farms, grain handling, paddy rice handling plants and feed mill plants to some of the most prestigious Vietnamese companies like, Vinamilk, Hoa Phat group, CP Vietnam, TH true milk, Hung Vuong Group and Tan Long Group, RTD Group. All the live-stock farms and feed, seed and grain plants are individually designed and constructed specifically to meet our customers' detailed demands based on proven know-how and experience from the well-recognized Danish agro-industry. The partnership with NS BlueScope will make it possible for us to offer valuable future-proof turn-key projects for the emerging Vietnamese market, securing the best solution on the market with high productivity, food safety and traceability in a same high standard as in Denmark." Said Member of BOD of SKIOLD A/S, Mr Jens Vinther Jensen.
Contact us for more information
News coverage:
About NS BlueScope Lysaght Vietnam
Being one of the first foreign investors in 1993, NS BlueScope Lysaght created a breakthrough in Vietnam construction industry through launching innovative and high tech steel buildings products & solution. NS BlueScope Lysaght's products have been a part of Vietnam's architectural and buildings for well over a decade, shaping so much of what's been admired in industrial & commercial buildings throughout the country's landscape, such as factories, administration offices, sports complex, commercial centers, warehousing, universities & institution, hospitals, livestock, farming and housing...For more information, please visit www.bluescopevietnam.com.vn
For more information, please visit https://skiold.vn