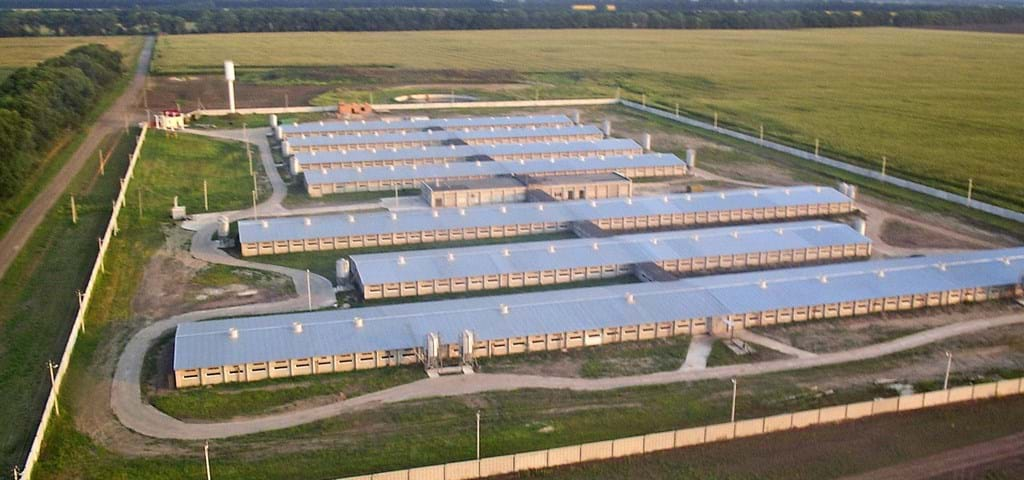 Ukrainian pig farmer
6 x full line farms with 1250 sows
With the farms from SKIOLD and Danish genetics the customer aims to achieve "Danish" results, results that he has achieved with more than 30 pigs per sow. SKIOLD has for the sixth time sent several road conveys from Denmark to Ukraine with equipment for a complete pig production farm. The other five farms in the area are built over the past years.
During the construction of the sixth farm, SKIOLD has also delivered silos for 30.000 tons grain storage, and rebuilt the existing SKIOLD feed mill. Besides the 6 pig farms, the customer also complete silos for storage of crops from 15,000 Ha from the vigorous area of Kiev. They have their own slaughterhouse with own processing facilities, and more than 20 outlets in Kiev.
SKIOLD TransPork system is designed and developed for the rough farm environment and the patent wire ensures long service life without breakdowns.
The plant in figures:
6 farms near Peryaslav-Khmelytskiy from 2007-16
Capacity: 6 farms 1250 sows full line
Project: Feeding system
Description: TransPork dry feeding, Maximat feeders for weaners and finishers