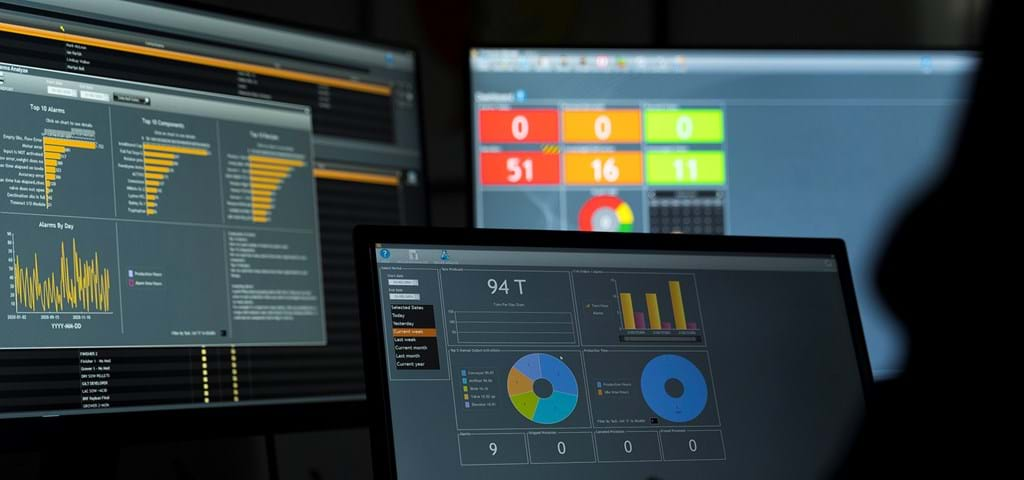 Flexmix Pro Production Manager
Collect data in an intuitive and user-friendly system with a central dashboard.
Complete overview of your feed production gathered in one system. Production Manager is our new centralized solution for the visibility of your feed production. It is designed to help you take control of your end-to-end feed production in a simple and easy-to-use dashboard.
Driven by artificial intelligence, the interactive feed production and consolidated dashboard provides an overview of your purchases, tasks, consumption updates and information that is important to your end-to-end feed production.
Production Manager is an Add-On to SKIOLD Flexmix Pro which helps you stay ahead of your competitors and fully updated. It provides several key features of an innovative feed production tool:
SKIOLD Flexmix Pro - Production Manager gives you:
All data from the purchase of raw materials to the delivery of feed, in one system
24/7 real-time overview of your feed production and performance
Full overview of the flow and higher quality in production
Credible data validation
User-friendly alarm function identifies potential crashes and reduces downtime.
Planning of raw material purchases based on accurate calculations
Centralized production planning at all locations, in one system
Unique settings, designed for this need:
Drag and drop, your saved recipes and reuse easily
Dashboard gives you a full overview of machines and data in terms of performance
Unique user interface, adapted to your needs
Complete spare parts list at the selected system
SKIOLD FLEXMIX Pro Production Manager is the solution of the future for optimal utilization and efficiency of your feed production.