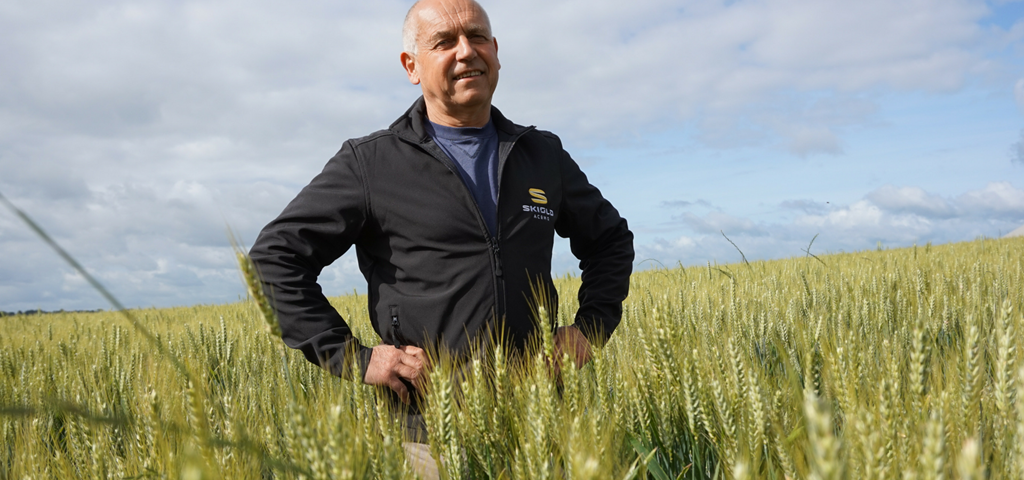 Sustainable and profitable feed production of pig feed
with a SKIOLD Feed Mill solution in France
Jean-Yves, a pig farmer in France with 400 sows, has invested in a SKIOLD feed mill. We met him at his farm, and here is his story.
Why did you choose to buy your own feed mill?
"Before I bought ready-made feed, but other breeders convinced me to buy a feed mill. The profitability of the investment was important to me, and I have calculated the investment costs to €23 per ton, and the return-on-investment to 10 years on equipment and 15 years on the building. This also convinced me that this was the right decision for me to make. The entire project took us 13 months, from the time we initiated the project until the feed mill was up and running."


Why did you choose SKIOLD?
"Above all, we have favored the quality-price ratio of the offer, while at the same time ensuring the proximity and reliability of our supplier and our installation contractor, Emeraude Elevage Equipments. We already knew SKIOLD Acemo (the French subsidiary of SKIOLD) and Emeraude Elevage Equipments very well, because we have worked with them before when we installed liquid and dry feeding systems on our farm."


Which results do you expect?
"By choosing to produce the feed ourselves, we expect improved animal welfare and improved efficiency, though it is still a bit early to measure. I think it will take us up to two years to be able to observe the results. We remain convinced of our decision because several studies of farmers having a feed mill on the farm show that this is a profitable solution, both in terms of lower feed costs and better animal welfare. Moreover, it gives me an easier workday."

Do you have any advice to give to breeders who wish to produce their own feed?
"The Disc Mill from SKIOLD was unrivaled in the competing offering: It's flexible, automated, and quiet. For me, this is essential. But it is not easy. It's a new job and a new skill to acquire, but we have learned it very fast."
Any last comment?
"Farm feed milling is definitely sustainable and profitable." End Mr Jean-Yves.