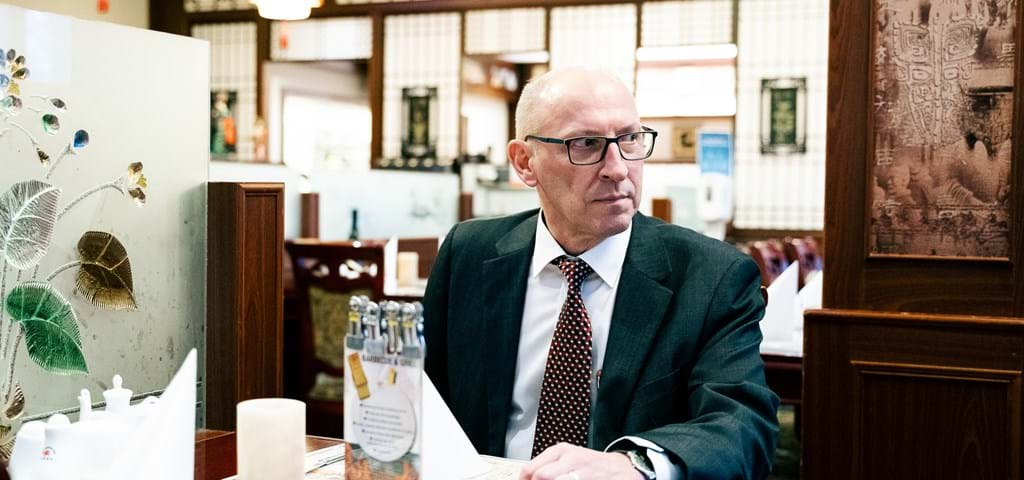 Asia sets new standards with SKIOLD
It's no secret that markets are changing, and demand is doing the same. It also turned out in many ways to be the deciding factor for where John Kongsgaard, who is SKIOLD's Regional Sales Manager in Asia, came to lay his energy.
For many years, exports have been a consolidated part of SKIOLD's business, where the company's many specialized solutions from harvest to animal production have helped to take on a unique position in the global market.
Although John Kongsgaard was hired to work with the Eastern European countries, people in his more than 30-year industry network still tended to contact him.
- Because of my previous work and many years in the industry, I came with networks from all over the world, from which I still received inquiries. There I am such a type that if a person approaches me, even if it is not my area of responsibility, then I would like to investigate whether there is potential for a good business, John Kongsgaard says with a smile.
In particular, inquiries from the Asian countries in general, began to fill more for John Kongsgaard as the Asian markets were in a huge development on the agricultural side. Of course, that also made it even more interesting for SKIOLD.
The trip goes to Taiwan


As the Russian market became the subject of a crisis with disease outbreaks in pig production, it brought SKIOLD into some massive challenges in a market that was frozen. At the same time, it also made the conditions for John close to impossible and the work, to put it mildly, hopeless.
It was time to look at other options, and such an opportunity arose one day when a former colleague drew his attention to an Export Promotion tour to Taiwan, where he proposed him and SKIOLD to participate. Something John today calls the starting point of what became his entrance into Asia.
John Kongsgaard participated in the Export Promotion trip to Taiwan, which must be said to be good timing. Things were developing at a rapid pace in the Southeast Asian market in the following years.

The development made SKIOLD increase its efforts, and the company chose to divide its activities into two regions. The regions were named Asia 1 and Asia 2, the latter in which they employed a new local Regional Business Director and John Kongsgaard holds a supervisory role on sales to pig production.
- Some changes were needed in the backup that we provided from our central team to our local office in Asia. Therefore, it was very natural that I became a regular part of that set-up, John Kongsgaard says.
With that change, John must now turn his attention to the countries of Taiwan, the Philippines, Thailand, Indonesia and Malaysia. Countries that have gone from having a large backyard production in their livestock production, but in recent years have become significantly more aware of efficiency and animal performance.
- It is clearly a market that has seen the many opportunities that exist when you are getting more expertise into the barn because it helps optimize their own production and increase food safety. Therefore, the development is also supported by the governments of several Asian countries, he explains.
A positive change


The fact that SKIOLD has received a positive reception in the Asian market is not least due to the fact that the company has solutions to specific problems in the battle for food and land.
In Asia, it has been possible to invest more in a well-educated, productive and job-creating population that can establish a growth that can transform their society significantly.
- There has been a large population growth and it has become more proven that efficient production creates far more value, John says and continues.
- In the production of pigs, examples have been seen of how much cost disease outbreaks among the animals can entail, and therefore the Asian farmers have also become more aware of bio security and management.
The fact that Asia is looking north on several levels is also largely due to the technology that characterizes the industry in Europe. The fully automatic systems have, in addition to a simpler and smarter production, also proven that it provides a more stable and safe operation.
- There are many factors that come into play. But I experience to a large extent that Asian farmers can really see that it pays off to work more systematically in the work with pig production because the result is simply better, John Kongsgaard says.
High standards


The fact that the demand for modern technology and the new trends in Asian agriculture has begun to shift speaks to that extent into the product range that has already been built up over the years at SKIOLD. But that does not make John and his colleagues sit back.
Instead, they have worked purposefully to gather activities and find contexts where they can offer a more complete concept, with the right systems and solutions.
- We were often in a situation where we experienced that we sat with a customer who outlined his thoughts and ideas, which gave a situation where we had to start from scratch without really getting the strong synergies in play that there are by bringing together our solutions on equipment, feeding and ventilation, John says.
Based on the capacity of the many projects that John and his colleagues work on, they therefore began to standardize the solutions for pig stables. Standards where the synergies between equipment and systems trigger an optimized production and enable the optimal operating flow.
- It is about that we can ensure an optimal integration, where we make some standards and with our systems optimize the overall project, which we calculate based on the amount of sows. Instead of risking putting together equipment or systems that create unnecessary challenges for the overall project, John says and continues.

- Based on our standards, we can create a complete concept, which we can adjust and adapt completely to the customer's needs and which we can optimize when needed. SKIOLD is in a position where we can fulfill most wishes and we can present solid solutions that work in real life.
Positive prospects


The adaptable and standardized concept, of which John Kongsgaard, among others, is one of the main architects, has been dubbed Asian Standards. The concept has got off to a good start, not least because the SKIOLD team has already delivered a string of successful projects.
- We are still in the establishment phase, and that is also what I think is most exciting. To get something built up and see it grow big, John Kongsgaard says.
The many projects have helped to spread the SKIOLD name and the quality of the overall solution that the company provides. Therefore, the company has also chosen to focus further on Southeast Asia in the coming years, where the goal is to increase activities considerably.
- What I envision is that we will expand our local presence in the individual countries in which we operate today. I do this because I believe that we are strongest where we have our own people, John Kongsgaard says.
John Kongsgaard's ambitions and drive are quite clear when you ask him about the task he is facing, and the foundation also seems incredibly fruitful. If you ask him why he is so optimistic, the answer lies in the reaction he experiences through the customers.
- They are very proud when the system is up and running. The enthusiasm is clear, and they tell far and wide about their system from SKIOLD, which they describe as the best in the world. It actually says it all, because there is no one better than your customer to assess whether the delivered solution is good, John Kongsgaard says.