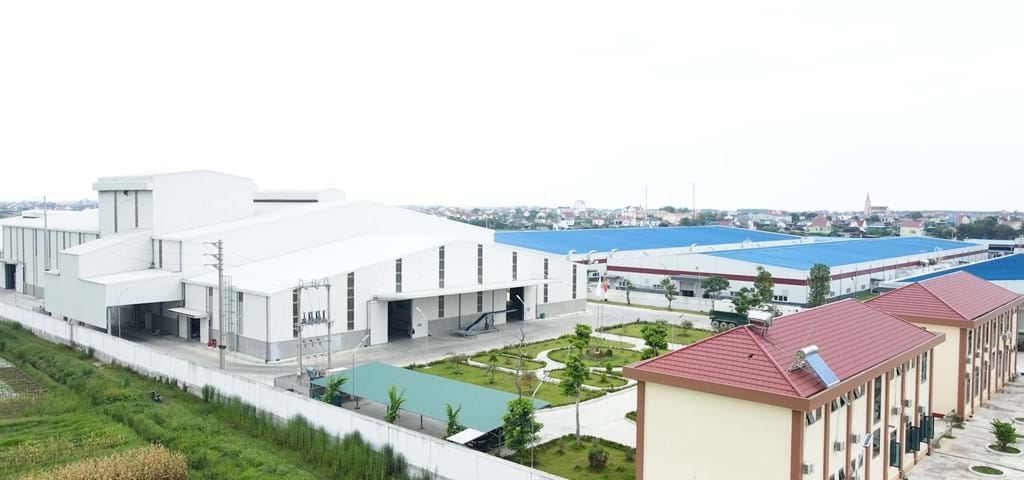 Thanh Do Feed Mill
Introducing Thanh Do Feed Mill, a remarkable SKIOLD feed mill located in Vietnam
Introducing Thanh Do's Feed Milling Success Story
Thanh Do operates a 10-ton-per-hour commercial feed mill, crafting high-quality feed for pig farms and partners. It's a story of ambition, growth, and commitment.
A Vision Realized
Mr. Thanh manages 16 farm sites, including three sow farms with over 3,000 sows and 13 sites for weaners and finishers. Yet, his vision extends further – to expand the feed mill from 10 to 16 tons per hour. This aspiration led him to SKIOLD.
Blueprint for Expansion
The expansion plans symbolize dreams taking shape. While delivery timelines remain dynamic due to industry challenges, the journey is in motion.
A Proven Success
Since its inception in December 2022, Thanh Do's feed mill has thrived for nine months, setting new standards in modern feed production.
Our Equipment Lineup
The feed mill's success is attributed to SKIOLD's equipment lineup:


SKIOLD Intake pit


Zanin drum cleaner


SKIOLD Jet filters


SKIOLD SK10 disc mills


SKIOLD Weighing bins


SKIOLD Mineral hoppers


SKIOLD Dosing system DS20/DS50


SKIOLD Mineral hand-add hopper


SKIOLD PTS 4000 paddle mixer


SKIOLD Liquid heating units


SKIOLD Bucket elevators


SKIOLD Chain conveyors


SKIOLD Flexmix Pro



BM Silos for raw materials and ready feed



Mogensen Msizer sifter


Why SKIOLD?
When the owner, Mr. Thanh, was asked "Why did you choose SKIOLD" he replied that first of all, he wanted a European solution. He believes the quality of European solutions is better and that the overall system is more straightforward, reliable, and easy to control. He values that it only takes one employee to control the entire system with Flexmix Pro. He also mentioned the disc mills and that he values the consistency in the particle sizes and the low energy consumption. He believes the disc mill solution is a better solution than the Chinese hammer mills he also considered. He compares it to buying the best rice cooker on the market for your kitchen. If it produces the feed you live off every day, it should be of the highest quality available.
In the process of buying the equipment, he also looked at other solutions from other European and Asian companies.
It is very clear that Mr. Thanh's relation to the sales manager, in this case Vu, is very important in his choice of supplier. Mr. Thanh trusts his advice from Vu and follows his recommendations regarding the feed mill facility. It seems that when Vietnamese investors choose suppliers, their relationship and trust in the contact person/sales responsible is just as important as what company is supplying the solutions.
Mr. Thanh chose SKIOLD for these key reasons:



European Quality: Skiold's European solutions offer superior quality, simplicity, reliability, and ease of control.




Efficiency with Flexmix Pro: A single employee can oversee the entire system efficiently through Flexmix Pro.




SK10 Disc Mills: Praising consistent particle sizes and low energy consumption, Mr. Thanh found Skiold's SK10 disc mills superior to Chinese hammer mills for essential daily feed production.



Explore Feed Milling's Future
Join Thanh Do's journey into modern feed milling, where excellence, trust, and European solutions come together to create a remarkable success story.
Are you curious to see the feed mill? Watch our video from the site on YouTube here:
(3) THANH DO NGHE AN - Feed Mill - YouTube