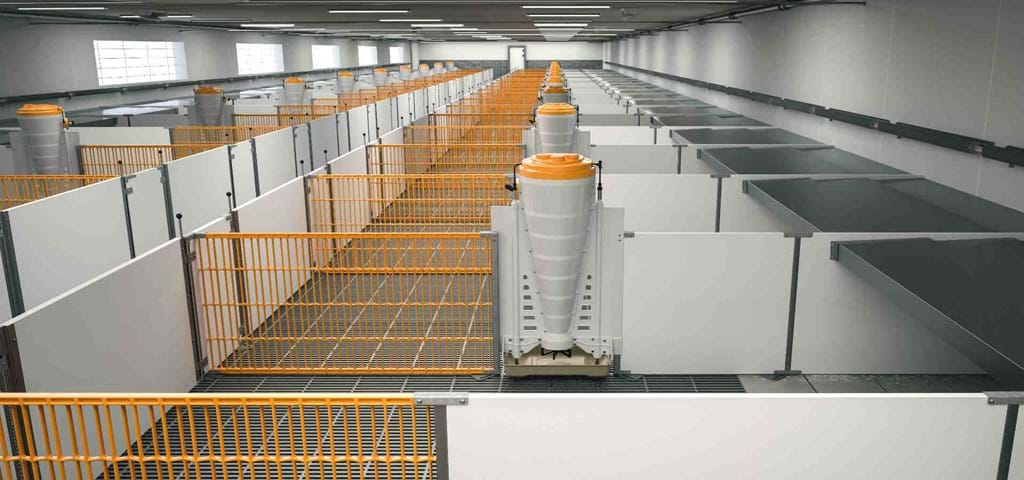 New Danish designed state-of-the-art penning solutions
Innovating module system optimizes both climate and hygiene
SKIOLD PN600/700®  – Innovating module system optimizes both climate and hygiene for weaners and finishers along with providing better work conditions for the staff
With inspiration from highly advanced aviation wing design along with close field research among professional Danish farmers, it is with pride for SKIOLD to launch the new state-of-the-art modular penning system for weaners and finishers.
The new penning solution has been tested in Danish piggeries. Danish Pig production has for years been a worldwide leader, and this status is thanks to very critical demands for high quality in any respect. It is a clear focus on optimal pig health that has driven SKIOLDs development of the advanced new penning solution. The new penning solution also contributes to a better work environment for the staff. 
Optimizes hygiene in the farm
Hygiene is one of the key elements in improving health conditions among pigs. The unique and innovative design of the ellipse-shaped grid and the very few parts keeps bacterial growth to a minimum. Along with that, it stands out as the easiest system to clean, meaning a more convenient workday for the peoples in the piggeries.     
Innovative materials
Not only the shape of the grid but also the materials used are unique on the market. It is a new type of extra strong composite with long durability. The design with its brand new ellipse shape without any sharp edges also ensures minimal injuries.
The innovative materials and shape of the grid also bring the advantage of being shortened, leaving out any risk of corrosion or strength. The material is extremely light and makes it easy and fast to handle, even for one person. Few fasteners are used to make installation quick – even for people with no experience.
The ellipse shape allows an increased airflow that benefits the climate, especially in tunnel ventilation farms. The shape provides less turbulence than with round bars, thus lowering stress level with the optimum growth conditions for the pigs as a result. 
Available in two standard designs: Closed and open sides. The system is module based.
Contact us for more information