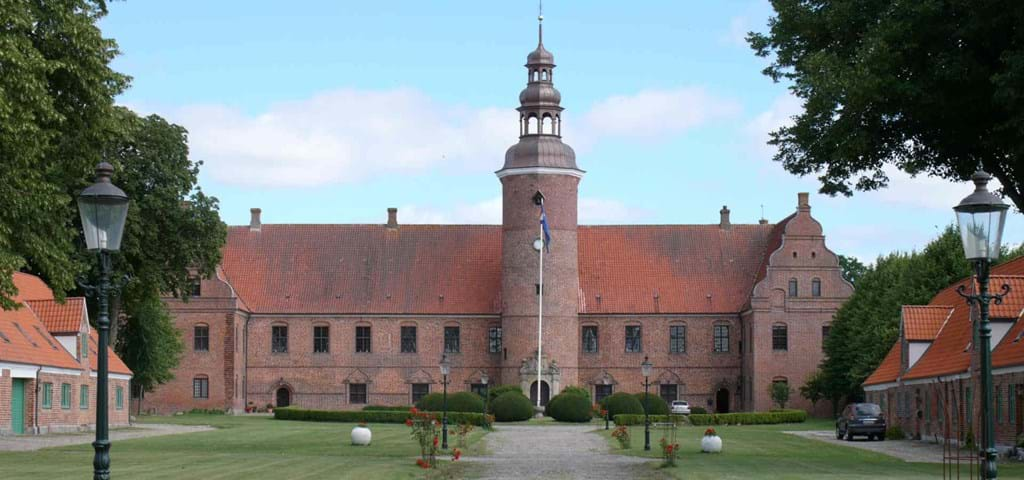 One of Denmark's historic manors are expanding
And has chosen SKIOLD as their supplier
Overgaard Manor is one of the largest manors in Denmark and has an amazing history dating back to year 1545. Overgaard Manor has been through a major strategic focus strategy during the last year, and the new management of the manor and in the pig production has resulted in the best financial statements ever in 2016. Pig production is a niche business for the manor, but has a significant share of the profits. In 2017, they expect to export 37,500 pigs, which is an increase of 11,500 pigs. 
Overgaard Manor has produced 7 kg and 30 kg piglets, but a strategic shift has meant that in future they will only produce 30 kg pigs. Therefore, they have built a new climate farm consisting of eight sections. From SKIOLD they have bought a climate solution with combi-diffuse ventilation, heating solution, TransPork feeding system, Maximat feeding automates and electronic control.
"We have chosen a SKIOLD dry feeding solution as we have positive experience with their products. We also chose their feeding machines, SKIOLD Maximat, because they have got really good reviews and they are easy to use in daily work" says Kristian Vinther, operations manager at Overgaard Manor, pig division. 
There has been high focus on optimization in daily operations, and the results are positive so far, but it does not end here. Through better genetics and management, Overgaard Gods has successfully managed to have reduced mortality, and their new target is a mortality rate of 1.5%. They have also set a production target of 40 piglets per breeding sow per year in the next few years. Today that number is 36 piglets. 
Congratulations to Overgaard Manor for their impressive results, and to their employees who form a great team.