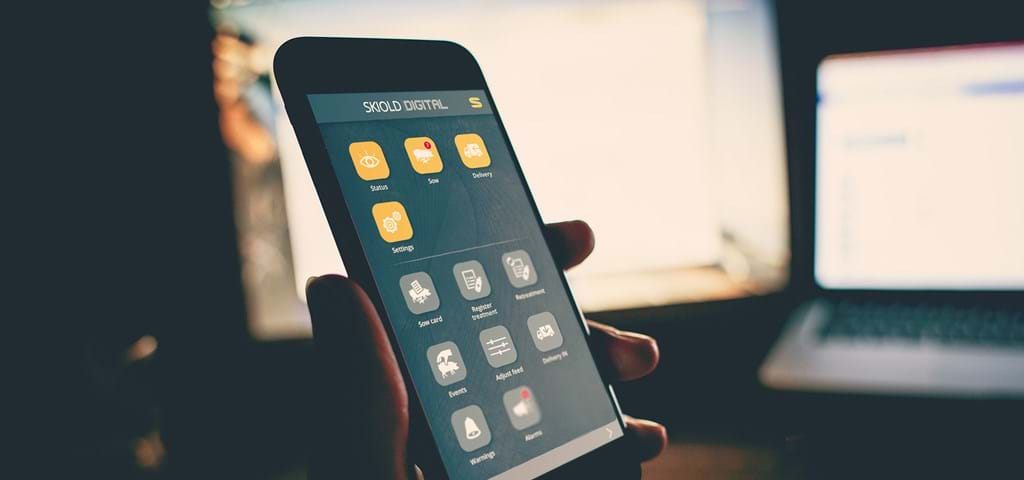 SKIOLD digital® - intelligent data platform for agriculture
SKIOLD digital® gathers, analyse and helps to manage farms
SKIOLD has embraced the internet of things (IOT) in our solutions to give the customers an intelligence platform. SKIOLD digital is an efficient tool in daily work and gives full insights to make intelligent business decisions based on data.
End-to-end applications that work great on their own and even better together.
SKIOLD digital® gathers, analyse and helps to manage the farm or the plant with valuable and reliable knowledge. All production data is gathered in one single management platform for comprehensive analyses and daily management of all aspects of the production.
This assists in performing better as you have instant access to real-time data about everything from grain storage to feed mill and climate to animal performance. The data available allows you to monitor production, compare performance between production units and forecast production as well. All data is available in one system, ending the hassle of harvesting data from different systems. A full overview is crucial for optimal results and returns on your investment. 
Efficient daily operation based on real-time data
With SKIOLD digital you can ensure that the animals get the precise feed quality they need for optimal growth… neither more nor less. Easy and effective monitoring makes it possible to follow the animals… how they grow and how they are doing… improving welfare and limiting the use of medication.
The real-time data will give the operator the necessary overview and possibility to optimize every step of the workflow… from the smallest seed to the final product… if the silos are running out of maize, the animals are not growing fast enough, if they show sign of illness … you can get alarms or notifications and the right person will know immediately.
Award-winning
SKIOLD digital is a new product - which is launched at Eurotier exhibition in Hanover and at the Danish exhibition Agromek in November 2018. And it has already been rewarded the highest possible acknowledgement of 3 stars at Agromek.
Contact us for more information