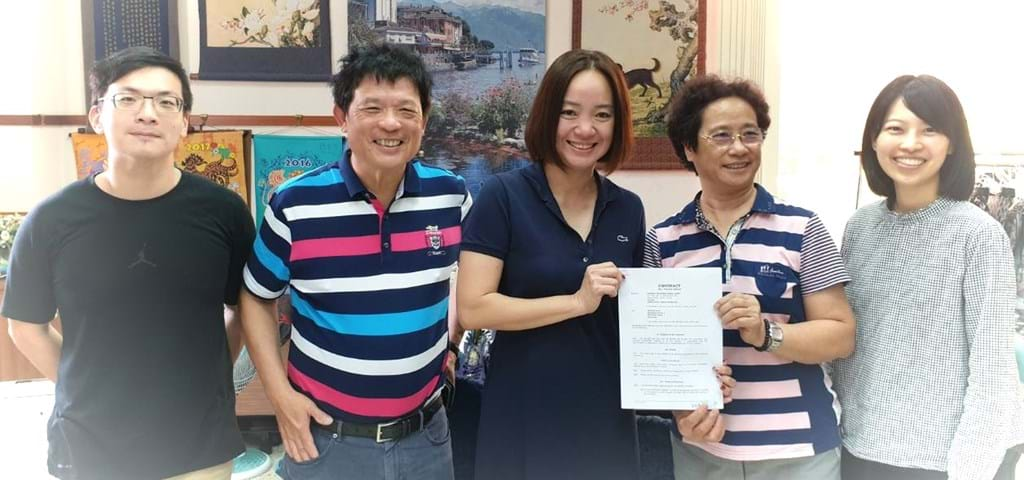 SKIOLD signs contract on a full-line pig farm in Taiwan
With HEMMAY Internationl Corp. in Taiwan
Taiwan is a brand new market for SKIOLD and at the beginning of this year, we signed our first order on a SKIOLD liquid feeding system. Now we can announce that we have signed a second order, which this time is a large order for a full-line pig farm with all Danish pig farm expertise for HEMMAY INTERNATIONAL CORP.
We are happy to welcome HEMMAY into the SKIOLD family of customers. HEMMAY is a company with manufacturing plants in Vietnam and Taiwan, and they designed the farm and SKIOLD supply all the equipment: Silos, dry feeding, penning, flooring, slurry and Transpork PC control for full-line pig farm including boar, gestation, farrowing, weaners and finisher sections.
Some of the unique products from SKIOLD which gives both more profitable pig production and healthier pigs are:
Dry feeding solution with the award-winning SKIOLD Maximat which allocate the proper amount of feed, significantly reduces bridge building to a minimum and have a self-cleaning effect. 

Multiphase feeding gives you the ability to feed up to five different recipes down the same pipeline, ensuring the pigs' actual nutritional needs. Hereby you optimize feeding expenses and adjust feed mixtures so that the pigs utilize the nutrients in an optimum manner with a minimum of excretion of nutrients in the liquid manure.

SKIOLD PN600/700 Penning system, which is designed to optimize the climate in tunnel ventilation farms and to limit bacterial growth for better health for the pigs.
Training and education of the local staff in order to comply with Danish production methods.
 "My organization were absolutely impressed by the team's determination and effort put into winning this project for the past month. We would like to thank Mr John Kongsgaard for his unwavering effort in making this project happen and not forgetting Ms Sussie and her team in SKIOLD Taiwan for their amazing teamwork," says Mdm Zhuang CEO Hemmay
Contact us for more information