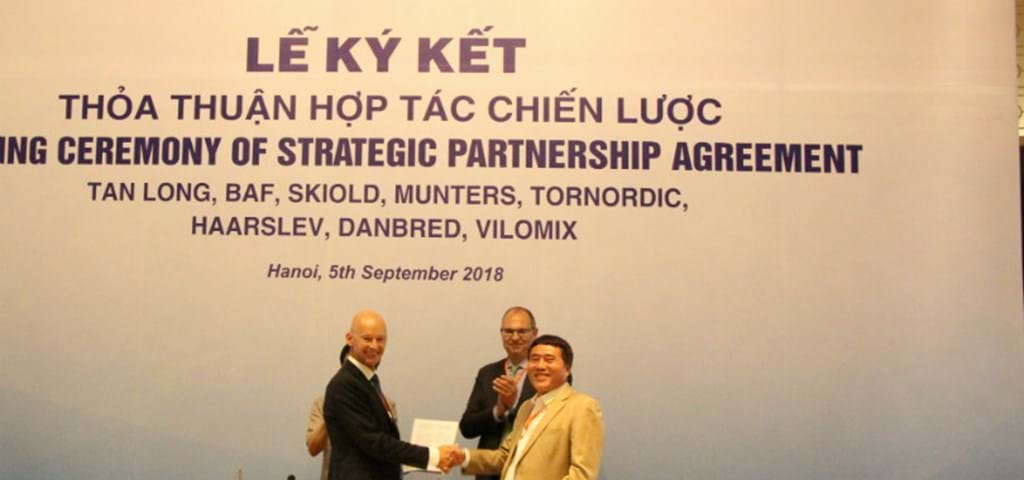 SKIOLD signs strategic partnership agreement with TAN LONG GROUP
Agreement for advanced solutions and equipment for a pig farm and paddy rice silos
SKIOLD A/S & Tan Long Group have signed a strategic partnership agreement (SPA) to increase the strength of both companies. Tan Long Group is the largest distributor of livestock feed ingredients and a major exporter of rice and livestock, and SKIOLD is among the leading suppliers of modern full-line pig farms, feed mills and commercial grain handling.
The Embassy of Denmark hosted the signing of a Strategic Partnership Agreement (SPA) between TAN LONG Group and six leading Danish companies, namely SKIOLD A/S, Munters A/S, Tornordic A/S, Haarslev A/S, DanBred A/S, and Vilomix A/S, with the purpose of formalizing their agreements to adopt advanced Danish technologies for Tan Long's projects.
Being one of Vietnam's leading traders in food and agricultural commodities, Tan Long Group is expanding its pork-and-rice production with ongoing projects in both Vietnam and Myanmar. The six Danish partners are well-known companies for turn-key solutions within the fields of pig farm equipment, grain handling, feed milling plants, genetics, feed nutrition, slaughterhouses and meat bone mills. 
Under the signed SPA, SKIOLD will be in a deal worth many million euros of consulting, designing, and supplying advanced solutions and equipment for a pig farm and paddy rice silos for a storage plant.
As close partners of SKIOLD, Munters supplies ventilation solutions for all pig farm projects of Tan Long Group. Meanwhile, DanBred and Vilomix are invited to provide the best breeding genetics and high-quality feed and nutrition supplements for pig farm projects in Myanmar and in Vietnam. Finally, Tornordic and its sub-contractor Haarslev will be the suppliers of a slaughter house plant, a meat processing plant and a meat bone mill.
"Denmark and Vietnam have a long history of cooperation in the food industry and in the agricultural sector, especially in the fields of seed production, animal husbandry, fisheries, water, environment and energy. Developing sustainable food value chains and enhancing food standards and food safety have always been the focal point of our mutual cooperation," the Danish Ambassador-Designate Mr. Kim Højlund Christensen said.
"The Embassy is very pleased to assist Vietnam in utilizing the great potentials of its agriculture and its food industry by facilitating the Vietnam-Denmark cooperation like this partnership. I hope both sides will be able to strengthen the cooperation further by signing the actual contracts in Hanoi today," he added.
The SPA stands as a good example of a commercial partnership in the livestock sector and is part of the Comprehensive Partnership Agreement between Denmark and Vietnam signed in 2018.
"We are delighted and honoured to become an important strategic partner to Tan Long Group, and we are excited to be a main part of the largest paddy rice project for 120,000 tons in Vietnam. Our advanced technologies and extensive knowhow will increase the efficiency in the logistic chain, reduce waste and increase the quality of the delicious rice produced in Vietnam to the highest standard. In association with TAN LONG Group, we hope to benefit the pork husbandry in Vietnam with the latest know-how and philosophies from Denmark concerning efficient pig farming, and to strengthen the value chain from Feed-Farm-Food (3F) to secure high food safety and full traceability", CEO of SKIOLD A/S Mr. Lasse Viegand Hansen said.