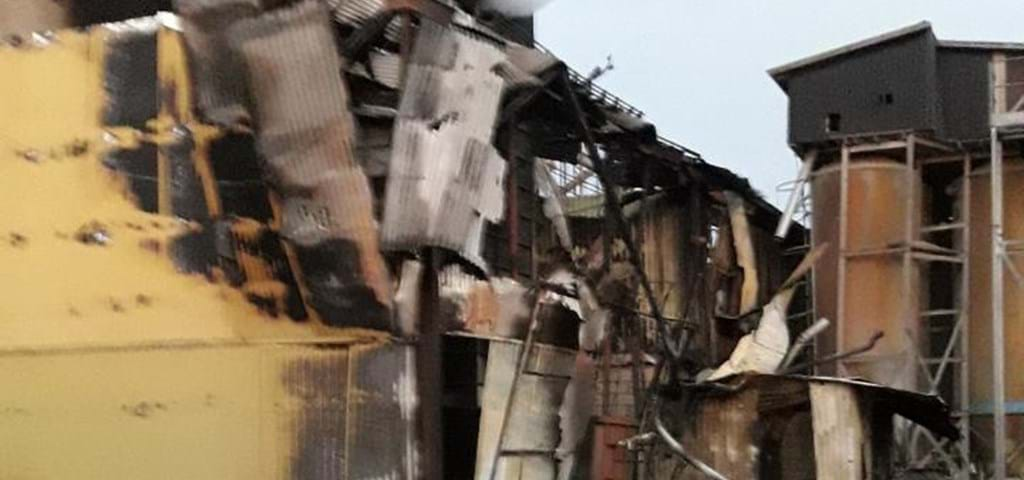 When the worst happens
On the night of September 19th, a grain dryer catches fire on a pig farm in northern Sweden.
The fire spreads quickly to a neighboring pig house with a total of 4000 animals, about 440 sows included. The alarm goes off early in the morning, but the fire gets hold of one of the departments / housing units. Intensive extinguishing work limits the fire to this part, but unfortunately about 600 pigs perish in the flames. This is a big tragedy for the owners of the farm and a terrible sight, but the work of hand feeding the surviving animals must begin immediately. The feed production on the farm is completely destroyed by the fire.
Even before the flames were put out, we at SKIOLD started inventorying the stock of parts, to see what could be put together. Each plant is unique, and now the important thing is to establish what can be achieved with available products. The same evening, a makeshift plant was put together with the help from dedicated staff, and packed to be shipped from the factory the following day.
Our business partner MAFA AB redirects their trucks and immediately loads 3 feed silos for transporting them 2x1400 km. 36 hours later, they arrive at the farm and are ready to receive feed. Intensive work follows with available service staff and our skilled service partners, Indulant AB and Östersta Lantbruk & Service AB. Some rebuild the plant while others work with programming.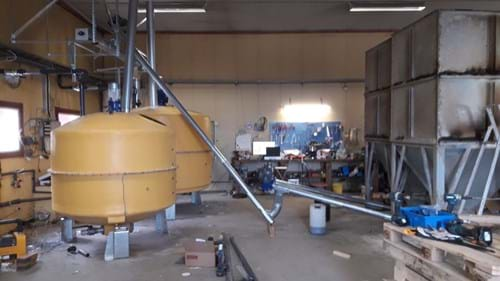 Exactly one week after the fire, a new temporary feeding facility was in place (see photo above) and all the pigs could be fed automatically again. This job done incredibly well was only possible with serious partners and dedicated employees.
But it does not end there…
In today's production system, it is devastating to lose a housing unit overnight. The pigs arrive according to the time schedule and must be housed. Production must proceed as planned. Therefore, at the same time as a temporary feed plant is built, a replacement is planned and engineered, and all documentation for the preliminary approvals is prepared at SKIOLD. Contractors and equipment suppliers are contacted. So today, 10 days after a fire, we at SKIOLD together with our partners have all the documentation ready to establish a new housing facility. The renovation work after the old one is underway. The parts that have the longest delivery time have been started up in the production. The goal is for the building to be completed in 3 months and in operation within 4 months.
There are many in this line of business…
Many in the line of business can supply housing facilities and pig farm equipment, but only a few can do so under these conditions. Possibly there is only one - SKIOLD.
A HUGE THANKS TO ALL STAFF AT SKIOLD AND TO ALL OF OUR GOOD PARTNERS.