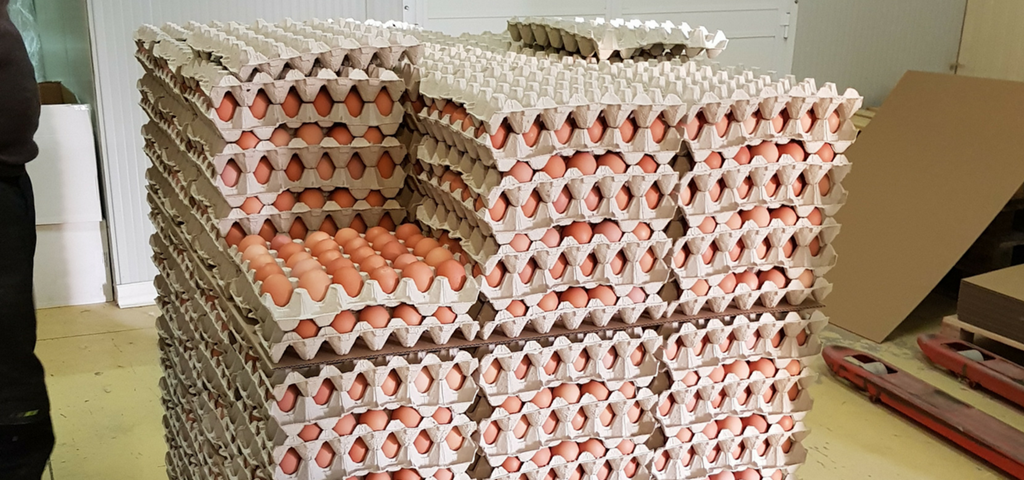 Feed mill for poultry, France
The feed mill has resulted in better results as regards productivity and quality of the eggs
Feed factory for 29,000 layer hens for SAS Oeufs Modery
A dream came true for Mr Modery - a French poultry farmer, who had been dreaming of producing his own feed for his layers using the crop from his own 260 Ha fields. 
Mr Modery was in charge of the installation himself from A to Z. Thanks to this experience, he has a very good knowledge of his feed mill today. "It was a very intense project. It was initiated on May 2nd and put into operation on September 22nd," Mr Modery says.
A trusted brand and a local distributor
Mr Modery chose SKIOLD Acemo for several reasons; first of all, because of the professionalism and his confidence in the technical solution. "We work with living animals, and my chicken needs to be fed, so the right solution is of utmost importance.  In addition, I had confidence in the brand and especially in the distributor Jean-Marie LOTZ, who knew how to give me advice and who is nearby."
The SKIOLD Disc Mill – an unrivalled grinder
"I chose the SKIOLD Disc Mill with a view to the grain size. My layers want something slightly coarse and not flour," Mr Modery says.
In addition, "I chose it because of the ease of daily use and according to advice from a breeder that we had visited with our dealer. A hammer mill requires more adjustments and regular monitoring of the wear of screens and hammers. That is not the case with the Disc Mill."
Another advantage of the SKIOLD Disc Mill is the low noise level, which is clearly below that of a hammer mill. It is also known for its low dust emission. Finally, the power consumption is very low – close to 4 t/h for a 15 kW.
Easy everyday life with the feed mill
When the feed mill is designed, everything is considered to ensure convenience of work and optimal working procedures. Today, the breeders only spend an average of 30 minutes per day producing the feed. "Sometimes we only grind two days a week because we already have feed in stock."
Significant gains
"The feed mill has permitted me to obtain better results at my chicken farm with regard to both productivity and the quality of the eggs, specifically the egg shells. We have halved our scrapping. This is very advantageous because scrapping is a great cost both in terms of time and profitability. That is a significant gain.
Finally, "the quality of the faeces is better". These advances are also related to the feed formulation, which requires a very high degree of accuracy. "We always seek to get closer to the need of the hen. Do not be afraid to change the feed formulation. Today I can produce my own feed. This allows me to reduce the feed cost which, when buying it, varies according to the exchange rate of the cereals and raw materials".
Technical information


Cultivated area 260 Ha, 2 layer buildings


Overall project depreciation: During 10 years (storage, brickwork, feed mill and transport lorry)


Mechanical feed mill "Mecamix H1500",  Horizontal mixer, Disc Mill, Easyfab Pro PC control.


Read more about feed mill solutions for poultry