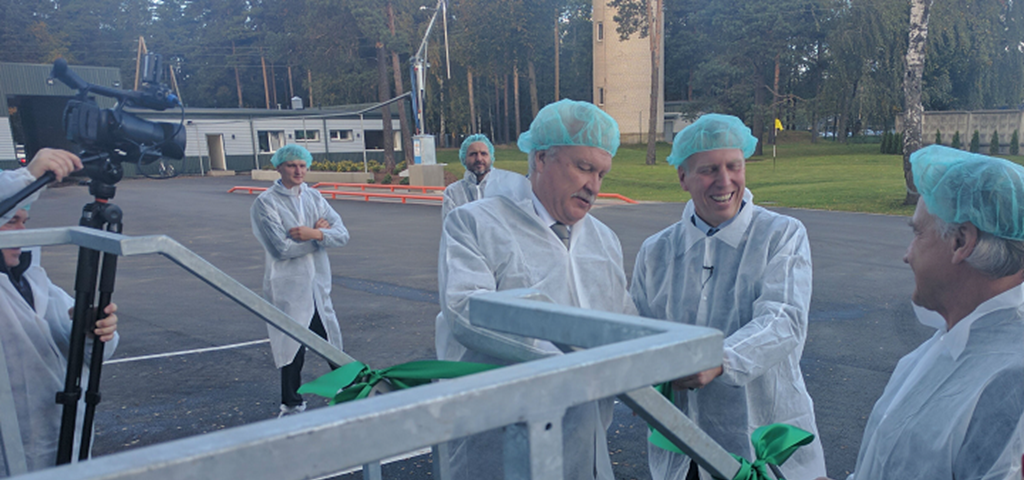 Innovative pig farmer overwhelms the Minister
The largest project sold by SKIOLD A/S in Latvia has been opened
A project for an innovative customer with focus on farm-to-table in real sense. He is a pioneer – and his story is so interesting that the Minister of Agriculture wanted to see the farm himself.
Ulbroka farm, owned by Mr. Aivars Kokts, is a large farm with 1100 sows and a full-line production from weaners to finishers. He has embraced the farm-to-table concept and delivers traceable products, with feed from his own fields, on-farm mixing, and own slaughterhouse, and organizes delivery of meat to local butcher shops and meat processors. He has realized that he can benefit from the many economical and production related aspects of having control over the entire value process of producing pork. In addition, he has even invested in a biogas plant to turn manure into electricity and heat for the farm.
Mr. Aivars Kokts wanted a milling system that was very flexible and scalable. The farm was opened by Mr. Jānis Dūklavs, the Minister of Agriculture in Latvia. In Latvia many farms have been transformed from collectives to modern farms. The Ulbroka farm has gone a step further, and is a top modern farm on the same level as modern farms in other countries. Mr. Kokts' visions combined with SKIOLD's knowledge and proven solutions have resulted in a state-of-the-art farm, and his visions about efficiency and farm-to-table products were an eye-opener to the Minister.
The farm-to-table movement changes the attitudes concerning food safety, food freshness and farm economics. It sustains the economic viability of farm operations and enhances the quality of life for farmers and society as a whole. By pursuing sustainable agriculture, Mr. Kokts contributes with many local benefits. For example, food sold locally does not require additional energy for transportation.
Mr. Aivars Kokts has chosen a high-end feed-milling solution from SKIOLD to fulfill his visions of farm-to-table. We have supplied him with a complete solution for intake, cleaning, drying, silos with temperature monitoring, conveying equipment, and a complete feed mill. The feed mill produces 7 tons per hour of ready feed, using a SK10T disc mill. The feed mill is built with premix dosing including crane for sliding in premix big bags over the mineral hoppers. There is micro dosing for adding micro elements, adding of oil, and mixing with a 3 step horizontal ribbon mixer. All processes are controlled by SKIOLD's PC based FlexMix Pro II control system, which provides a full overview of the production and tracing of products used in the production.
Focus has been on flexible transport routes and the ability to handle several processes simultaneously, for example intake of grain, drying of grain, and conveying of grain from the grain storage silos into the feed mill at the same time. This way none of the processes will be delayed while waiting for other processes to finish.
Having total control over the quality of the feed is very important, and on-farm mixing ensures the best raw material quality and fresh feed for the animals. The cornerstones in feed production are proportioning, grinding, and mixing, and SKIOLD applies the most thoroughly tested technology and offers a wide range of products particularly within these fields.
See more from the installation here