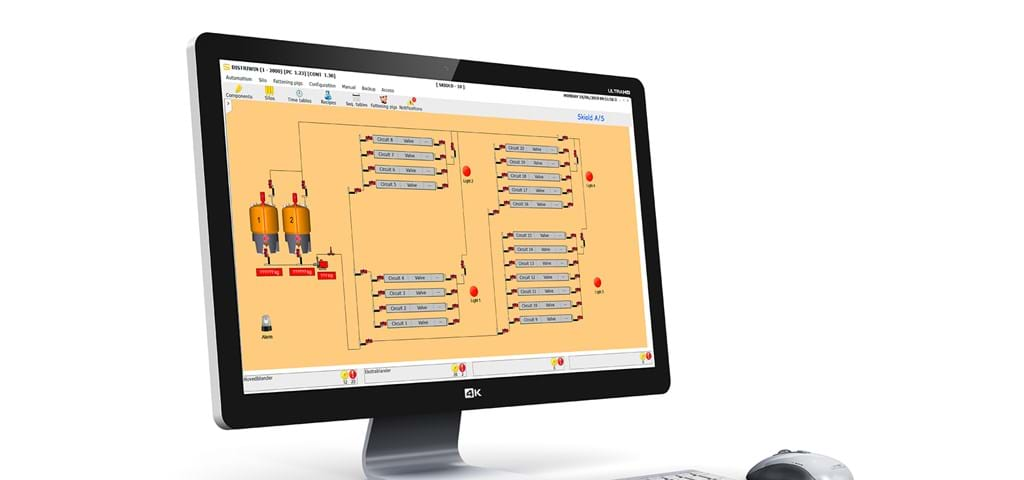 SKIOLD Distriwin - Pig feeding management system
Advanced feeding made easy
SKIOLD Distriwin is not just a piece of software – it is your most important work and decision tool, which gathers all data and gives you valuable insights into the performance of your farm feeding system for optimal efficiency and increased yield.
Increases productivity whilst minimizing feed costs
SKIOLD Distriwin is a new pig feeding management system, which increases productivity whilst minimizing costs based on digital intelligence. It is a key tool for the pig farmer to monitor and optimize the production, from storage and feed milling to any of the advanced feeding systems that operate the feeding of pigs in any size. The management system is scalable from small pig farms up to 36 simultaneously running tasks and 90 mixing tanks, which are accessible at any time. SKIOLD Distriwin gives the farmer visibility and transparency in daily management and guides the farmer to manage the farm in a well-organized way, limiting errors and improving efficiency. The system creates synergy between the employees and the system and provides for traceability of all entries and events. It is possible to generate reports on pen/ section/house/farm level – which really makes management easy in everyday work.
Most exact system for distribution of feed
It is one of the most accurate systems and fully able to distribute the exact amount of fresh, healthy feed for each pen. It is possible to distribute feed by means of full tail control (maximum accuracy) or by constant flow dosing. The system also ensures the correct mixture when changing from one recipe to another. The alarm warning functions give valuable help in securing e.g. that the silos don't run empty and that spare parts are replaced in time.
Proven user-friendly system
SKIOLD Distriwin is a proven system
It is based on SKIOLD's pig feeding management system DM2000-6000, of which SKIOLD has delivered more than 5,000 systems. The database is on a secure platform integrable with other systems and is continuously being
updated.
Healthier pigs and lower feed costs
Possibility of residue-free feeding results in fresh feed with lower bacterial growth and thereby less negative fermentation
Lower feed usage because of the optimum supply of feed based on weight/age
Possibility to use more recipes, which gives larger flexibility and lower costs when feeding the pigs
The graphic user interface is making it easy to operate
DistriWin can be adapted to your exact needs, i.e. make individual user profiles with individual permissions, which gives higher efficiency, fewer errors and ease of use. Furthermore, it is possible to name sections and rooms individually.
It is a multinational system with interchanging of the languages by a keystroke, which is a major advantage on farms with international staff members.
Distriwin manage with large accuracy multiphase dry feeding making a smooth shift from feed receipts from start to end, both restrictive and ad-lib feeding.
Optimizing growth of the finishers
Optimizing milk production in farrowing sows
Continuously adjustment on all daily feedings
It is possible to change recipe content during the growth period in order to optimize protein content to adapt the need of the pigs. These changes are based on feed curves per section.
Using liquid feeding, Distriwin can be expanded with SKIOLD Eat-Time Advanced - a system that optimizes the feed based on the animal's circadian rhythm.