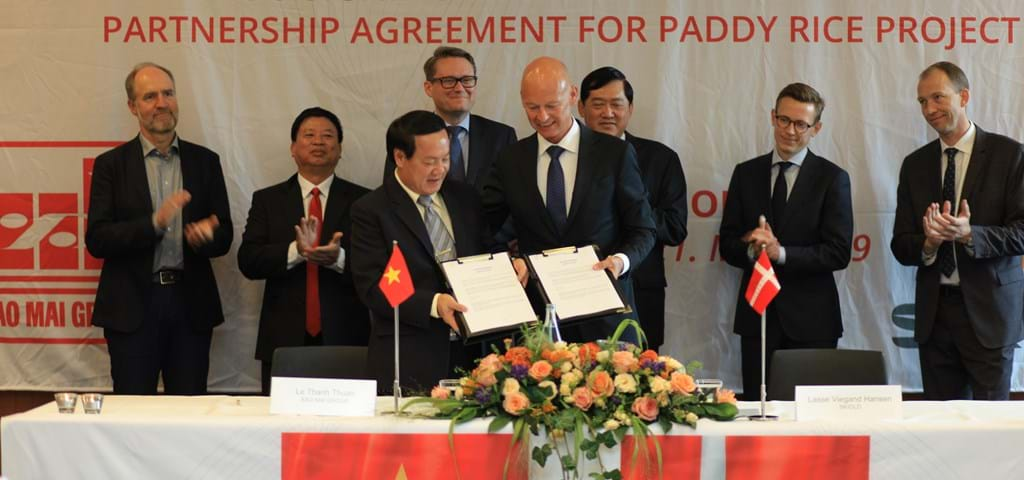 Sao Mai Group signed MOU with SKIOLD
Largest modern paddy storage & rice mill plant - 1 mio tons rice yearly
SKIOLD A/S and Sao Mai Group signed a Memorandum of Understanding (MOU) to build up the largest modern paddy storage & rice mill plant, which applied international advanced technologies. Accordingly, SKIOLD will have an agreement worth millions of euros to consult, design, provide completed modern technology solutions and equipment the rice mill, which is invested by Sao Mai Group. Moreover, SKIOLD and Sao Mai will work together in building a strategic vision to expand the market and bring the "Made in Sao Mai - Vietnam" rice brand to the world.
The biggest modern advanced rice production plant in Asia  
Total construction area of ​​over 22 hectares, with a total capacity of nearly 1 million tons of paddy per year, Sao Mai paddy storage & rice mill plant will be the "trump card" to solve food consumption in Vietnam. Sao Mai will utilize 100% of by-products from this rice milling process (rice bran, broken rice, rice husk) for it's subsidiary companies to produce aquatic feed (Sao Mai Super Feed), rice husk for broilers and bio-organic fertilizer sources. The final rice product lines continue to supply to domestic consumption and international market channels, bringing double profits to the national agricultural industry.
An Giang - Dong Thap - Kien Giang is a key area for food production in the lower Mekong Delta River. Unfortunately, there has no proper rice processing factory that is worth enough. Obsolete milling, very basic drying, and storage technology is not efficient and reliable enough to provide the best quality rice products for international markets. Sao Mai aspires to become a "big fish – big investor", leading the Vietnamese national food industry to optimally solve the problem of Vietnam's food industry, and restructure to achieve sustainable growth in the future.
Read more about our Rice solutions
The factory will be located in the "capital" of the paddy raw material area, contributing to the consumption of all rice sources, while creating jobs for many local labours, convenient for waterway transport, saving costs and improving living standard for farmers. Those advantages will support Sao Mai Rice Factory aim to ensure global food security and satisfy 12 sustainable production targets. 
"It is an honour for SKIOLD to sign a memorandum with Sao Mai Group and we look forward to working together to develop this modern paddy rice project. Our advanced technologies and extensive know-how will increase efficiency in the logistics chain, reduce waste and enhance food safety." Mr Hansen – SKIOLD's CEO ended.
Contact SKIOLD for more information on Paddy rice projects
ABOUT SAO MAI GROUP
Sao Mai Group has 17 subsidiary companies, with a workforce of 12,000 people with good expertise, high skills, and professional working style. Sao Mai Group has been very successful in many fields: real estate, construction, aquaculture and processing of aquatic products, refining high-grade cooking oil from fish (Ranee), producing aquatic food, pioneer in exploiting clean energy, supplying overseas labour, tourism business, and Sao Mai is preparing to invest in a Hospital in Thanh Hoa applying 4.0 Technology. In addition, the Group promptly enters in new business - rice production and aims to become one of  prominent food supply units in Vietnam
For many consecutive years, Sao Mai Group has reached the top of Vietnam's leading economic groups, one of the key seafood exporters of Vietnam. Sao Mai has been also named in the thousands of billions interest-earning business club.
SKIOLD Rice project with Hanh Phuc Rice Jsc
Contact us for more information