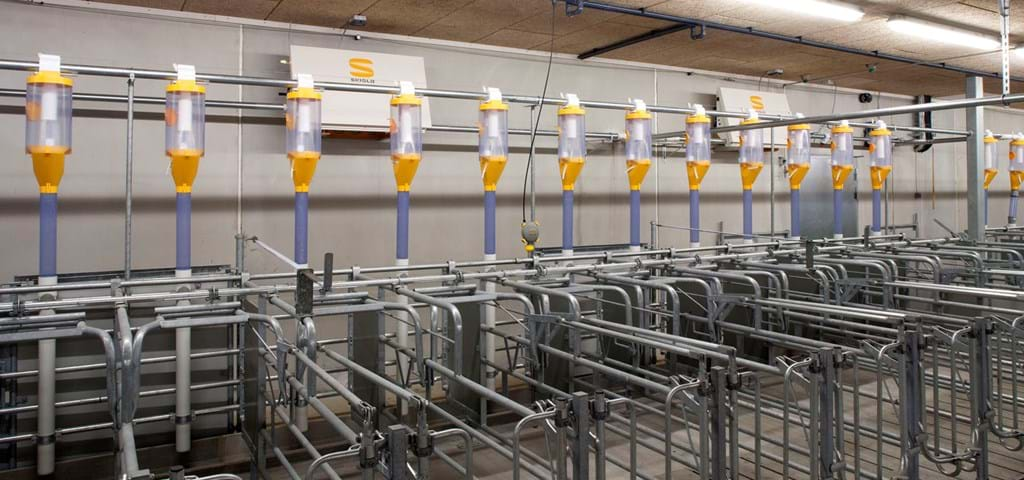 TransPork
SKIOLD TransPork has an unmatched capacity of up to twice that of other dry feeding systems due to a very strong construction. TransPork® dry feeding system can be installed with SKIOLD volume dispensers or used as a filling system for Maximat® feeding automats.
The drive unit can be installed on the floor or mounted on a wall. The drive unit is equipped with an integrated console, which prevents cable breakage in case of overloading by foreign bodies.
The TransPork® corners are cast of hardwearing plastic and can be positioned horizontally, vertically or with inclination. Each heavy-duty inner wheel is fitted with dustproof ball bearings. Further protection against damp and feed penetration is provided by the two outer casing parts, which are bolted together with stainless bolts to ensure a dustproof seal.
The SKIOLD TransPork hopper is simple in design with a stainless cabinet for outdoor as well as indoor mounting. The hopper can be placed free-standing on the floor or suspended under a silo. The inlet is adapted for standard hoppers but is also available with special connections.